With WordPress powering over 42% of the web and more sites being added daily it is important users and developers understand the importance of keeping WordPress up to date.
As a design and hosting company based in the UK our support team periodically receive emails from customers asking whether or not they should update WordPress, plugins and themes etc. In this article, we will explain the pros and cons of keeping WordPress updated and provide further tips along the way.
What is WordPress?
WordPress is a free open source content management system which enables users to easily build websites in a few clicks. Built using PHP and MySQL, and licensed under GPLv2, WordPress is easily extendable by developers (like us).
WordPress websites need updating as updates are released regularly for the WordPress core, plugins and themes. These updates include security patches to fix known vulnerabilities as well as feature improvements.
Reasons why you should keep WordPress updated:

1. Security:
The main reason without a doubt is security. WordPress is by far the most used software that enables users (or developers) to easily build a blog or website for their business.
Developers regularly fix known vulnerabilities and release updates for their software. It is important that site owners (or managers) are aware that if they do not keep their website updated, they could be vulnerable. It is especially important for e-commerce websites to make sure their site is routinely updated so that sensitive customer information is not vulnerable to hackers.
2. New features and improvements
The WordPress core, plugins and themes sometimes receive new features and improvements usually during a major release. For instance, WordPress 5.0 included the new Gutenberg block editor and we even made an article highlighting all you need to know about creating a blog post.
3. Bug fixes
Developers are human, meaning just like you and I they are prone to making a mistake (or two). This sometimes leads to certain issues appearing whether that being in the back-end of WordPress or the front-end. Once these issues are reported to the developer, they will be quick at work to try and resolve these in a future update.
If you notice an issue on your WordPress website – have you considered making sure the WordPress core, plugins and themes are all updated?
4. Speed
Having a website that loads slowly can have a detrimental impact on the number of visitors your site receives. Having an outdated WordPress core, plugins or themes can have a big impact on website load time, especially if they have bugs. So, you may want to consider making sure your site is up to date to make sure your website is running at optimal performance.
Don't forget that your hosting provider can have a big impact on your website load time. See our website hosting page to find out more information about our hosting packages.
Will updating WordPress break your site?
Theoretically no, but there is always the possibility. Be sure to have a backup of your website before proceeding with installing any updates else you run the risk of breaking your website. With our enhanced hosting, you can take advantage of daily backups.
How to update WordPress core, plugins and themes
First, login to your WordPress dashboard usually located at [domainname.com]/wp-admin. Then in the top-left hand corner underneath dashboard you will see the word updates (usually with a number in red next to it. Click this.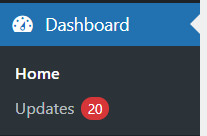 From this page, you will be able select the WordPress core, plugins and themes you wish to update.
WordPress enhanced hosting, backup, support and maintenance bundle
Would you like a trusted UK company to keep your website up to date and secure? Well here at Globe2 we offer a bundle to give you piece of mind that your website is up to date, secure and loads fast for your visitors.
Included in this bundle is a proactive routine maintenance by our "Excellent Rated" support team at no extra cost. Whether you need a new page adding or one edited, our friendly staff are always on hand to help.