Website Design For Small Businesses
Our skilled team of web designers will create a web page/website that will help your business achieve its goals. All of our processes are designed with your business needs in mind, focusing on what will bring the best out of your website.
Our Design Process is made with you in mind. Aiming to keep you in the loop at all times and looking to give you as much of a benefit as you can from your website.
We meet with you, whether with a coffee or on Teams, and discuss your ideas.
Our design team get started on bringing your ideas to life. Bringing creativity and ingenuity.
We will frequently meet with you, showing you our ideas and discussing what you like, and don't like, to find the perfect design for you.
Then we aim to finalise your design and add in all the lovely content you need on your site to go live.
Our Website Design Features
Responsive, Mobile First Design
54.4%
 of web browsing is done from smartphones. We design with this in mind, making sure that your website always looks just as impressive on a smaller screen. our Responsive web design ensures you never have to worry.
SEO Optimised Website Design
What is the goal of your new website? Presumably to generate more traffic, and leads, correct? We highly focus our initial planning on creating an SEO (Search Engine Optimisation) strategy for your new website to help your rank better.We look at your existing website, provided website examples and your competitors (including local) to identify how we can generate your new website traffic. This information is then passed from our Marketing Team to our Website Design Team to begin implementing these optimisations in to the design.
E-Commerce Website Design
E-Commerce websites are easy using the plugins we setup for you. This makes managing your shop a breeze, even without our help after setup. Adding new products, adjusting pricing etc is all simply done.
Built with WordPress and Elementor-Pro
We create all of our websites using WordPress and Elementor Pro, as this makes them incredibly easy to manage once they are deployed. Content can be updated in minutes, whether by us or you.
WordPress Maintenance and Hosting Packages
We also offer web hosting packages, with various levels of maintenance included. This means that we deal with all the behind the scenes stuff, such as updating plugins and content, and even as far adding whole new pages!
Our maintenance packages are ideal for customers where they have an ecommerce store. Keeping your website up to date is vital to make sure your website is safe for you and your customers.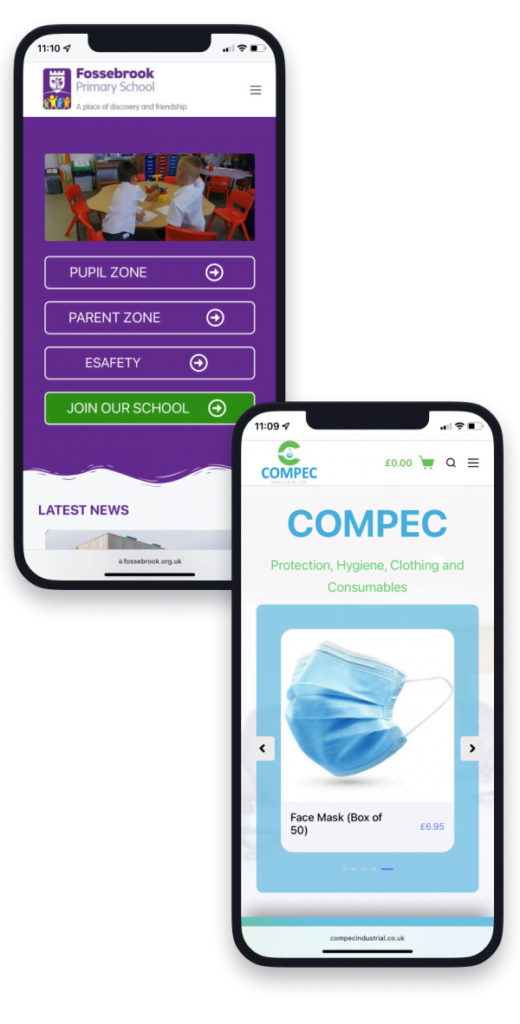 Frequently Asked
Questions
We would love to hear from you you or meet up in person for a coffee. We are based in Market Harborough, Leicestershire and so if you are in the Leicestershire area let us know, as we would love to meet you.