A business phone system that comes with advanced call routing features such as hunt groups can be an important asset for your staff and customers. Being able to route calls easily and quickly can improve efficiency of your staff and help your customers get hold of you more easily.
What is a hunt group?
A hunt group is a business phone system feature that allow businesses to route calls to a single member or a group of members. Effectively, a hunt group is a group of users that an incoming call will be routed to.
Hunt groups are a vital feature for businesses because you can route calls based on your preferences. When combined with interactive menus and call queues, you can make your business look more professional while increase your staff's productivity.
With a VoIP telephone system, businesses can create multiple hunt groups for various reasons. For instance, you can create a hunt group for a support team or a hunt group for sales. You can also make sure you never miss a call by settings up fail-safe routing to divert to an external number or voicemail is all phones are offline.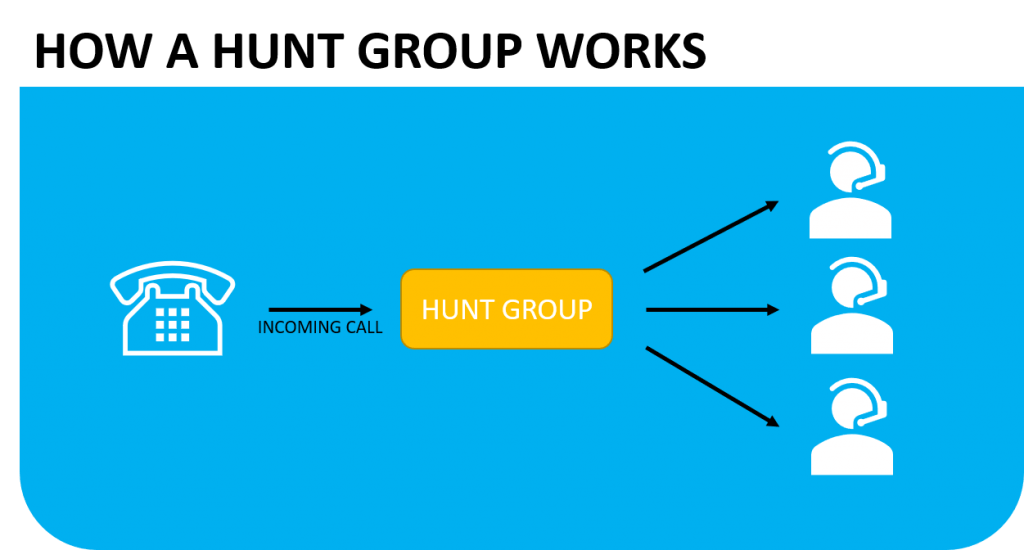 Hunt groups vs call queues
While there are some similarities between hunt groups and call queues, the main difference is that with a call queue a customer will be held in a queue if all agents within the call queue are busy. Hunt groups on the other hand will send customers to voicemail if a user is busy.
With a call queue as a company administrator you have more control over your agents and the overall call flow. For instance, you can set a wrap up time after calls (in minutes and seconds), so that agents do not instantly receive a call after they have put down the phone. In our experience, 20 seconds is usually an optimum number.
With a call queue you can also set periodic announcements based on position in queue, estimated wait time or even a personalised message.
The different hunt group types
Hunt groups can work in multiple ways based on your preference. Here are the five hunt group types:
Simultaneous
With this option, when an incoming call reaches the hunt group all the members devices will ring at the same time. If a user is already on a call, their devices will not ring.
Regular (linear)
With the regular hunt group option, an incoming call will be routed to the hunt group members in the order they have been added. If this member is unavailable or they do not answer, the call will be routed to the next available member in the list.
Circular
With this option, the first call goes to the first member in the list, the second calls go to the second member in the list and so on until it reaches the end of the list. This then circles back to the first user.
Uniform
Incoming calls are sent to the user that has been available for the longest period.
Weighted
The incoming call rings Members in a pseudo-random fashion according to their relative weight. The weight of each user is set as a percentage in the business portal. The more weight, the more likely the call is going to be sent to that member.
How should you set-up a telephony hunt group?
First, before you begin you need to a fully feature business phone system that supports call routing features such as hunt groups.
Next, you or your administrator need to assign a phone number to the hunt group. Upon assigning this phone number, this phone number can be given to customers to call once the set-up is complete.
Next, you want to decide what call routing option you prefer (described above) and assign members to the hunt group. You are now ready to give the number out to your customer, additionally you may want to set-up additional routing options as described below:
Additional features to consider:
Pre-message. Useful to add a company intro message such as "thank-you for calling [company name], please note…"
Voicemail-to-email. Send voicemails as an attachment to multiple email addresses.
Fail-safe call routing. If all members of the hunt group are unavailable divert calls to an external number such as a voicemail.
Call forwarding to voicemail. Forward calls outside of office hours to your out of hours voicemail.
Setting up a phone hunt group with Globe2
To add a hunt group, first navigate to the site you wish to add the hunt group to in the business portal. To create and configure a Hunt Group, please follow the below. Remember if you are a Globe2 customer, we can set this up for you free of charge.
Navigate to: Sites (select Site) > Features > Hunt Groups
Click 'Add'
On the Add a New Hunt Group page under Profile Details enter:-
Hunt Group ID – a unique ID with a minimum of 6 characters
Hunt Group Name – a Name for the Hunt Group
Caller ID First Name/Last Name – This is what will display on the Hunt Group members phones for incoming calls
Feature Package – Select Hunt Group Plus – please refer to the next section.
Directory Number – The phone number to be associated with the Hunt Group. This must be one of the valid phone numbers which has already been reserved to the Site.
Extension – If required give the Hunt Group an extension of the required length. The extension cannot already be in use within the Site.
Then select the hunt group / call distribution type as preferred and finally click save.

How can telephony hunt groups help my business?
Using a hunt group with a VoIP phone system can be a massive benefit to your business. A hunt group allows you to handle many calls effectively meaning your customers and staff are kept happy.
Successfully configuring a hunt group will allow you to make sure a call never goes unanswered and can often make your company appear bigger than it is.
Furthermore, our VoIP phone system includes free set-up including free number porting and the set-up of hunt groups. Meaning, you can sit back and relax while we do all the hard work. Also included free with our VoIP phone system is VoIP mobile app meaning your team can make and receive calls on the go.
Need a VoIP phone system for your business?
If you need a VoIP phone system for your business you can use our quoting tool to get yourself a free online quote and 10% off your first month.
Our VoIP phone system is perfect for small businesses and our clients rate us as 'Excellent' on Trustpilot. If you have any questions, feel free to get in touch.