VoIP Phone System
For Market Harborough Businesses
As a small business located within Market Harborough we are proud to offer our VoIP Phone System to local businesses in Market Harborough.
Since 2008, we have been located in Leicestershire providing our services in the UK and abroad in Spain to our many happy customers.
Our Business VoIP Phone System is great for small businesses as it is great at cutting costs for communications needs, and comes fully loaded with a host of premium features and unlimited UK calls*.
Fill in the form below and one of our friendly members based within Market Harborough will be in touch to arrange a quick informal meeting.
10% OFF all user licenses for the first month
Our Small Business
VoIP Packages
Inclusive calls to UK landlines
Inclusive calls to UK mobiles
Cheap PAYG Calls
Softphone App Included
Same Day Set-up Available
Pay Monthly Phones
Inclusive calls to UK landlines
Inclusive calls to UK Mobiles
Softphone App Included
Same Day Set-up Available
Pay Monthly Phones
Advanced Call Routing Features
What we can offer Your
Market Harborough Business
Business VoIP with Unlimited UK Calls
Our phone system is based on simplicity, which offers unlimited calls to UK landlines and UK mobiles*. This is perfect for all businesses big and small.
Calls to 01, 02, 03, 0800 (freephone) & 07 (UK mobiles).
*Maximum of 5000 calls per user.
Keep your customers data safe with the ability to start, stop, pause and resume call recording live during a phone call. Furthermore, call recordings are safely stored in encrypted storage.
For more information get in touch.
VoIP Phone System CRM Integration
Increase productivity with our VoIP CRM Integration extension. This extension allows our fully featured telephone system connect with your system to further enhance your experience for you and your staff.
To see a full list of CRM integrations, please contact [email protected].
VoIP Fail-safe Call Routing
In the event of a disaster our phone system has you covered with fail-safe options such as the ability to divert calls should all agents devices being unreachable you can make sure that all calls are answered.
Mobile VoIP App for Businesses
With our phone system you can use a desk phone, desktop and mobile VoIP app. You can use these devices and move calls between the devices all without the customer knowing.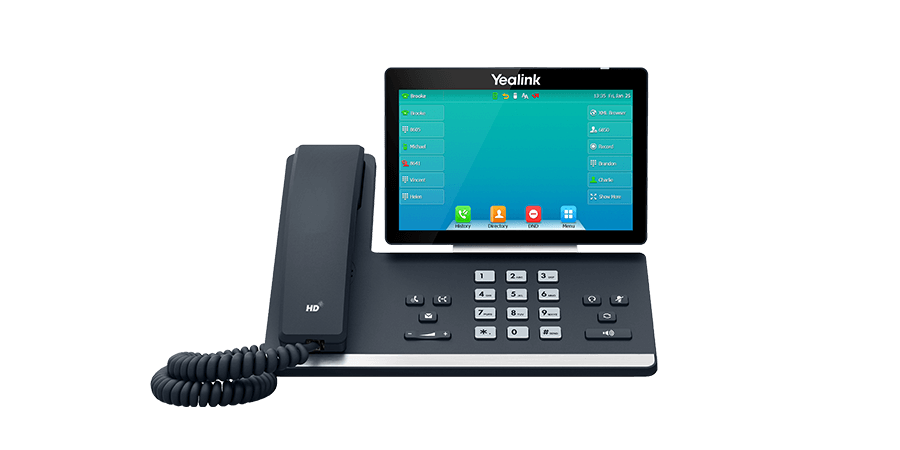 Yealink Desk & Cordless Phones
We provide and support Yealink desk and cordless phones as well as headsets. These are available to purchase upfront or monthly over 36 months.
Frequently Asked
Questions
Use the form below and we will be in touch to see how much you can save and also improve on your existing business telephony solution.